We are introducing the first laser-cut, open-cell phenox stent with anti-thrombogenic HPC coating technology pEGASUS. The self-expanding stent is designed for the endovascular reconstruction of the neck and intracranial vessels with a 2.5 mm to 4.5 mm diameter.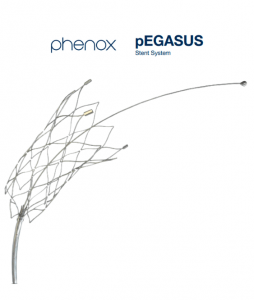 Ideal for saccular, fusiform aneurysms and pseudoaneurysms (when used with coil embolization), intracranial artery dissections in acute and chronic phases, and atherosclerotic stenoses of intracranial arteries (when used after dilatation with a PTA balloon).
More Accurate and Safer Deployment
The uniform cell design allows easy crossing and dense coiling without additional microcatheters. Its unique open-cell structure guarantees flexibility and advanced kink resistance to ensure good wall apposition even in tortuous anatomy.
Excellent Contrast Visibility
Three platinum X-ray contrast markers on both ends of the implant ensure good visibility during fluoroscopy. The delivery system has radiopaque markers at the distal and proximal end of the system to allow the operator to determine the unfolded stent's position easily. A safety tag also helps control the insertion of the stent until deployment in the vessel without fluoroscopy.
The Stent's Principle of Operation
The stent is compatible with 0.0165" or 0.017" ID catheters enabling access to distal lesions. After unfolding the implant, a microcatheter can be easily inserted through its eyelets, enter the aneurysm and fill it with coils. You can view the principle of operation of the stent in the video below.
For Greater Patient Safety, Choose Pegasus With a Hydrophilic Polymer Coating

You can also choose phenox pEGASUS with a unique HPC coating. The patented hydrophilic polymer coating mimics the endothelium's glycolysis layer, and platelets are not recognized as foreign bodies, thus minimizing the initial adhesion of platelets, thereby significantly reducing the risk of thrombus formation.
Try out phenox quality products yourself! Contact our specialists to learn more about our products or book a demo session in your clinic.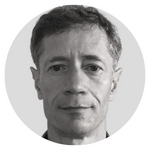 Darius Kutka
Senior Products Manager