The age of patients applying to medical institutions for joint pain is getting younger and younger. The resulting joint pains prevent physical activity and normal daily work. How to get rid of joint problems and pain caused by them? 
Due to heavy physical exertion experienced in his youth and intense sports, joint pain also afflicted the famous traveller and TV & radio journalist Vytaras Radzevičius. 
"I am a former athlete. When I was young, I played handball, soccer. While serving in the army, carrying backpacks full of stones around the mountains was necessary for two years. Physical exertion was the main factor leading to severe joint pain. My body weight also contributed to this. However, one leg suffered more – over time, I started to feel severe pain, especially after physical exertion," V. Radzevičius told.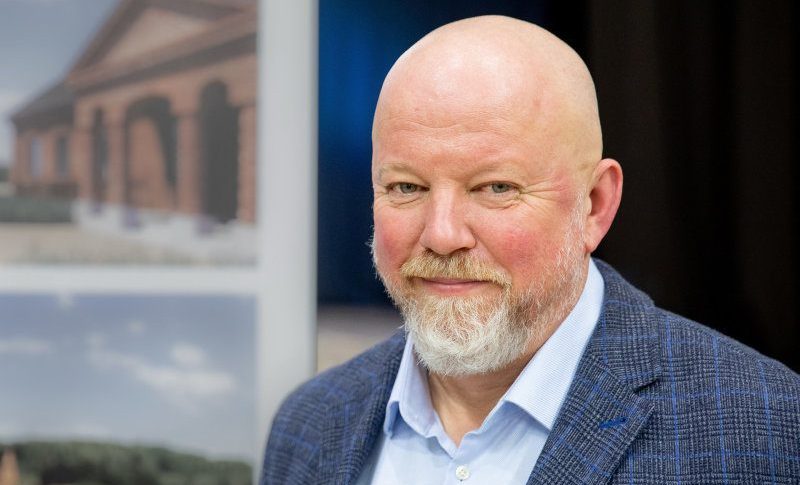 A well-known man in Lithuania admitted that he suffered from pain for 10 years. At first, he tried to overcome it with physiotherapy, then painkillers, knee joint arthroscopy was also performed. But all these were only temporary measures. Finally, Vytaras decided to have a knee joint replacement surgery at Fi Clinica. 
"This operation is probably the biggest in my life. Before that, I collected a lot of information, consulted with many doctors. Most specialists in this field spoke very simply: if you suffer from pain, you must take measures because you cannot always live with pain. It is worth noting that all the tomographic examinations and X-rays performed on the joint showed that it is indeed hopelessly worn out," said the well-known man.
V. Radzevičius revealed how he feels after the operation and what further steps, he intends to take
"More than five weeks have passed since the operation and I can already say that the functions of the leg have improved a lot. Six weeks after the operation, we had planned an expedition to New Zealand. I was a little worried about whether I would be able to recover and move well enough before the trip. I am very happy that thanks to a successful operation and an intensive exercise course, I am back on my feet and feeling better every day. I know the exercises I will do during the trip. I will not neglect rehabilitation, because it is necessary to exercise after such operations," said the traveller.
Fi Clinica orthopaedic traumatologist, med. m. Dr Aurimas Širka claims that joint pain is no longer only a problem for older people
"The age of patients is getting younger, and expectations are increasing. A young patient with certain joint pains wants to stay active, and, of course, being active is disturbed by a pronounced pain syndrome in the affected joint. Specifically, we can talk about pain in the hip or knee joint, but looking at the pathogenesis of the disease itself, it is very important to note that joint problems in younger patients are usually caused by so-called secondary joint arthrosis. Secondary joint changes can be post-traumatic or congenital," said A. Širka.
First thing to try is a non-invasive way
Speaking about the treatment of joints, the doctor says that the first thing to do is to try to solve the problems in a non-invasive way. 
It is not uncommon for patients to ask if they really need surgery. First, if we look at medical guidelines, surgical treatment is not always the method of first choice, even with large radiological changes. Especially in young patients, the advantages of conservative, non-operative treatment should always be used. However, when conservative treatment does not provide a tangible benefit and clinical effect, in such a case, surgical treatment should be discussed with a specialist," said Doctor A. Širka. 
During the operation, joint cartilage and worn bone surfaces replace the entire knee joint or its damaged part. To replace it, high-quality and durable implants are used, made of different metal alloys and ultra-high molecular weight, especially wear-resistant plastic. 
"Implant selection is an extremely important criterion for a successful postoperative course and implant survival, as the anatomy and bone quality of each patient is different. As for younger patients, based on medical literature, scientific articles, and data from joint registers, the first choice is cementless implants. The choice of these implants is wide, so the responsibility of choosing the implant should fall to the orthopaedic traumatologist", said the doctor of Fi Clinica.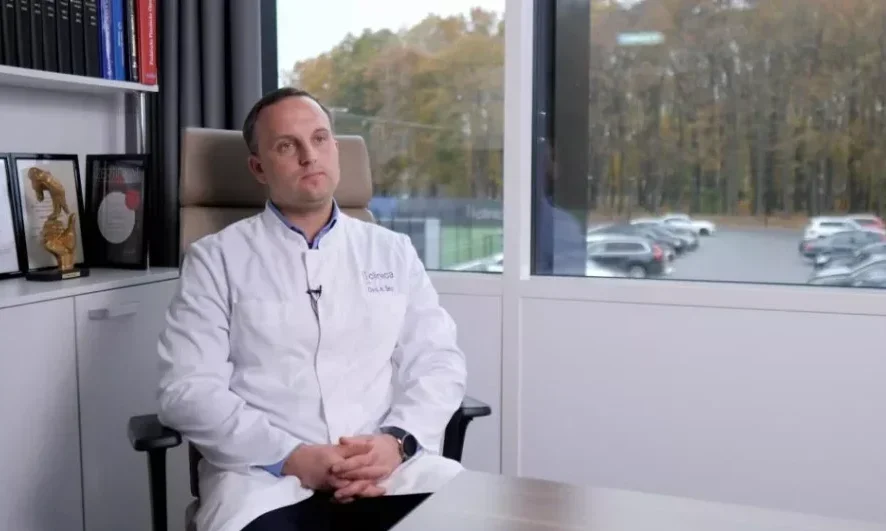 Knee replacement is performed under spinal or general anaesthesia after making a 12-15 cm straight skin incision in the front part of the knee. During the operation, the worn surfaces of the joints are removed, and implants of the appropriate size are implanted in their place. 
According to the doctor, the result is achieved when the post-operative period arrives, and the joint heals. 
"In the early postoperative period, 2-3 months after prosthetics, most patients feel pain, which can be managed by evaluations of modern analgesia algorithm protocols. However, the result itself, a person's coexistence with the implant, its natural feeling, appears 6-12 months after the operation. After this period, a person usually does not feel that he has an artificial implant in his body," said the doctor. 
Today, the trends in joint replacement are being discussed worldwide. Most recently, A. Širka participated in a symposium in America, in the city of Chicago, where surgeons from all over the world discussed joint treatment techniques and shared scientific experience and achievements in this field. All doctors agree that knee joint surgery must restore the patient's full quality of life. 
"The goal of modern endoprosthetics is to return a person to full-fledged daily and physical activities. The implant itself must restore the normal physiological biomechanics and kinematics of the joint. In this case, we can ensure that an especially young patient with an implant can perform extremely active physical activities, such as jogging or skiing," says the specialist. 
Consult with our specialists about medical tourism in Lithuania