Vai vēlaties iegūt zināšanas par vismodernākajām aortas aneirisma ārstēšanas metodēm Baltijā vai varbūt justies pārliecināti par to, ka slēgtās operācijas laikā blakus ir uzticams konsultants? Lietuvā šādas procedūras tiek veiktas arvien vairāk, un ķirurģiskās tehnikas kļūst arvien sarežģītākas. Ir brīnišķīga sajūta zināt, ka mēs varam palīdzēt, ja nepieciešams. BONAMEDA, uzticams inovatīvu medicīnas risinājumu partneris, rūpējas, lai sniegtu visaptverošu palīdzību un atbalstu kvalificētiem ārstiem.
Lielākā daļa asinsvadu ķirurgi visā pasaulē izvēlas veikt endovaskulāro stentēšanu, nevis atvērtu operāciju. Lielākā daļa ārstu Baltijas valstīs izvēlas veikt vaļēju aortas aneirisma endoprotezēšanu un tikai daži izvēlas alternatīvu. Jau 27 gadus mēs cieši sadarbojamies ar vislabākajiem medicīnas darbiniekiem lielāko pilsētu slimnīcās un varam apgalvot, ka tagad ir labākais laiks plašāk piemērot šo ārstēšanas metodi. Aortas operācijas var būt vienkāršākas un drošākas nekā jebkad asinsvadu ķirurgu iegūtās lielās pieredzes un inovatīvo medicīnas risinājumu dēļ.
Kāpēc ir vērts mums uzticēties?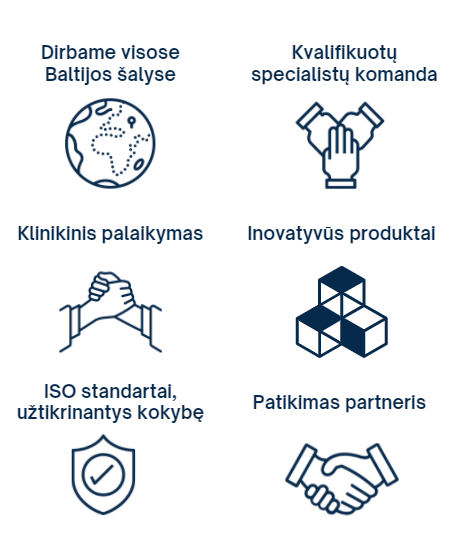 Mēs esam mūsdienīgu medicīnisko ierīču izplatītājs un jauno risinājumu nodrošinātājs, kurš uzlabo ārstu darba kvalitāti un pacientu dzīvi. Mēs sadarbojamies ar vadošajiem medicīnas ierīču ražotājiem no visas pasaules un piedāvājam saviem klientiem efektīvākos medicīnas risinājumus, kas vislabāk atbilst to vajadzībām. Turklāt, mēs pastāvīgi uzlabojam savu darbinieku iemaņas un kvalifikāciju, kā rezultātā mūsu komanda nodrošina profesionālu apkalpošanu un klīnisko palīdzību ārstiem, kā arī garantē lielisku mūsu klientu apkalpošanu. Aortu operācijas nav izņēmums.
Kādos gadījumos ir ieteicams edovaskulārā aortas ārstēšana?
Endovaskulārā stentēšana ir ideāla izvēle pacientiem, kas ir vecāki par 65 gadiem, visbiežāk vīriešiem, kuri cieš no daudzām blakusslimībām un kuriem ir atbilstošas anatomiskās īpašības. Ārstiem šāds ārstēšanas process kļūst daudz vieglāks, pacientam samazinās risks un dzīšana pēcoperācijas periodā kļūst vienkāršāka, ātrāka.  Pacienti tiek izlaisti no slimnīcas pēc dažām dienām, un jau pēc 1-2 nedēļām var atgriezties normālā ikdienas režīmā. Turklāt, mūsdienīgi stentgrafi ir paredzēti ne tikai vēdera aortas infrarenālās aneirismas ārstēšanai, bet arī jukstarenālās aneirismas, aortas-gūžas aneirismas vai pat torakoabdominālās aortas aneirismas ārstēšanai.
Endovaskulārās ārstēšanas priekšrocības:
Mazāka trauma pacientam;

Operācija norisinās ātrāk;

Pēc aneirismas stentēšanas samazinās aortas sieniņas noslogojums;

Piemērota ne tikai pašas aortas ārstēšanai, bet arī aortas zaru aneirismai;

Vieglāks operācijas veikšanas veids ārstam;

Vieglāka dzīšana pēcoperācijas periodā pacientam;

Pacienti ātrāk atgriežas ierastajā dzīvē.
Radīts profesionāļiem – Zenith Flex® abdominālais endovaskulārais stentgrafts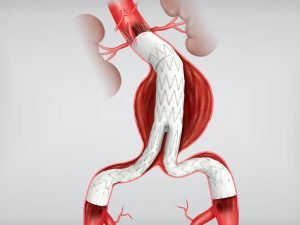 Augstākās kvalitātes Cook Medical Zenith Flex® abdominālais endovaskulārais stentgrafts paredzēts dažādu vēdera aortas un aortas-gūžas aneirismu ārstēšanai.  Tas ne tikai maksimāli saglabā asinsvadus, bet arī ir ideālais risinājums plīsušu vēdera aortas aneirismu un aortas-gūžas aneirismu ārstēšanā.
Abdominālā endovaskulārā stentgrafta priekšrocības:
Neticams elastīgums

Trīsdaļīga sistēma, kas pielāgojas individuālajai pacienta anatomijai

ARC Technology™ – nepārspējama noturība pret sistēmisko migrāciju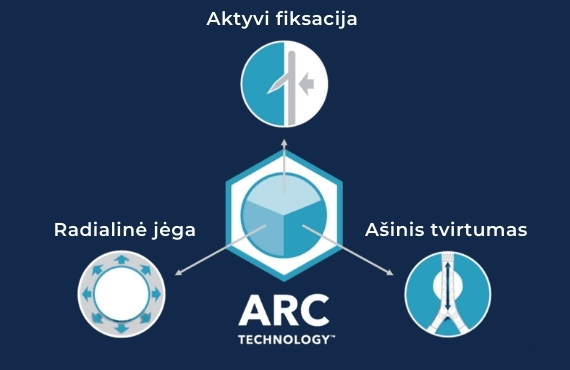 Mēs pārstāvam pasaulē pazīstamus ražotājus, kuri piedāvā jaunākos medicīnas produktus, kas palīdz veikt pat vissarežģītākās aortas operācijas. Šī iemesla dēļ mēs esam gatavi piedāvāt jums profesionālas ierīces un to piederumus, kas vislabāk atbilst jūsu vajadzībām. Aicinām pieteikties!
Sazinieties ar mūsu kvalificētiem speciālistiem:
palīdzēsim uzzināt vairāk par modernāko endovaskulāro ārstēšanu Baltijas valstīs;

nodrošināsim profesionālas konsultācijas un apmācības;

veiksim endovaskulārai ārstēšanai paredzētu augstākās kvalitātes produktu prezentācijas Jūsu klīnikā!